ARTHUR JOFFÉ
lire la bio en francais

a Bio-Filmography
ARTHUR JULIEN JOFFÉ started as a photographer for press and fashion.
He then wrote short stories and in 1980 began to direct several short fiction films. Among them:

"The Backdrop" starred Dominique Pinon(for the first time on screen before "Delicatessen" by Caro and Jeunet). The film won the Grand Prix at the Montreal Film Festival in 1980 and was selected at the New York Film Festival.

His next short fiction film"Merlin" won the Palme d'Or at The Cannes Film Festival in 1982.

Then Arthur Joffé wrote and directed " Casting" a 1- hour fiction for television, starring Bruce Myers and Geraldine Chaplin. The film won Le Prix de la Jeunesse(Price of youth) at the Cannes Film Festival in 1983.

In 1985 Arthur wrote and directed his first long theatrical feature in English, starring Ben Kingsley and Nastassja Kinski: " Harem"
The film won 5 Cesar nominations.

Then Arthur wrote several screenplays and directed several prestige commercials for Guerlain, Volvo. And several luxury products.etc

In 1990, Arthur wrote and directed "Alberto Express". The film was shot in Italian, and starred Sergio Castellitto, Nino Manfredi, Marie Trintignant and Jeanne Moreau. "Alberto Express" was released in New York and Los Angeles in 1992 and won critical acclaim worldwide. The movie was selected in the Ten Best List by NBC's Jeffrey Lyons in 1992 and won the First Prize at the Quebec Comedy Film Festival.

In 1997 Arthur Joffé wrote and directed "Let There Be Light!", He completed and released this comedy- fantasy in 1998. The screenplay of this heart- warming film deals with God and movies and features many prestigious French actors. The film was dedicated to the memory of his father ALEX JOFFE and was shown with great success in various film festivals around the world.

Arthur completed in 2004 is new comedy "Hold on!" staring Sergio Castellitto.
This comedy/drama is about a man talking on the phone with his dead father, and being ruined by the cost of those very long distance phone calls! The film is produced by Margaret Menegoz les films du Losange (a company created Eric Rohmer and Barbet Shroeder in Paris).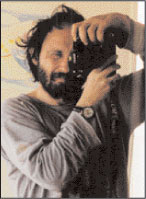 Arthur is currently working on a new film project for les films du Losange and he is also looking for partners in Europe and in the U.S.A. for his next english language film: "Night Music" . The screenplay written by Thomas Rayfiel is based on an original story by Arthur Joffé.. The project is owned and developped by ArthurJoffé 's company Jetlag Films. Ben Kingsley will co-lead in, this film which takes place entirely in New York City.

Email:
arthurjoffé@wanadoo.fr
Agent in Paris: NICOLE CANN AGENCY tel: 33 1 44 15 14 2
Lawyer in L.A: GEORGES T HAYUM /Armstrong Hirsh, Tyermann, Wertheimer
Tel: 310 553 03 05
-------------------------------------